Enter your exhibits
On-line
Now through August 26, 2017
Click Here for On-Line Entry
(Opens in a new Window)
Available through Saturday, August 26, 2017
Tri-County Fair On-line Entry Instructions
(Download and Print these instructions)
MS Word Format, or PDF Format
We've made our on-line entry system as fast and painless as possible; however please take note of a few simple steps first.
Click the link for on-line entries on the LaborDayFair.com page.
A new window opens in Blue Ribbon Fair On-line.
Unfortunately, there was no way to save your login information from previous years, so go to Create New User Account
Use the pull down to select your Division. Select 4-H, Adult, Senior Citizen, or Open Youth
Fill out the form and click "Save Account Information"
The easiest, though not the fastest way to enter your exhibits is to click on "Premium Book". From here you can select your entries from pull down menus directly from the fair guide.
If you have the printed copy of the fair guide with you or the sheets from this website, you can click on "Quick Entry". Please see the following steps and examples before using Quick Entry.
In the appropriate boxes type in the Division and Class of your item.
Even though the Fair book only displays a two digit code for "Lot" the system only recognizes a three digit code, in order to distinguish between 4-H, Adult, Senior, and Open Youth entries. Lot numbers for 4-H start with 1, Adult is 2, Senior is 3 and Open Youth is 4. So if you are under 18 and entering a digital, color photo outside the 4-H division your lot number is 402.
Quick entry examples:
4-H Division, Foods, Candy, Beaten: Division: FD, Class: FD1, Lot#: 101

Adult Division, Foods, Candy, Beaten: Division: FD, Class: FD1, Lot#: 201

Senior Division, Foods, Candy, Beaten: Division: FD, Class: FD1, Lot#: 301

Open Youth Division, Foods, Candy, Beaten: Division: FD, Class: FD1, Lot#: 401

As you can see, your Lot number is your Age Division (1 for 4-H, 2 for Adult, 3 for Senior and 4 for Open youth) followed by the two digit lot number in the Fair Guide. Naturally if you should have any questions about Fair Entries, please call me at the office 775-623-5071 Ext. 102.
(Download and Print these instructions)
MS Word Format, or PDF Format

Remember, paper entries must be pre-entered by
Friday, August 25, 2017 to be accepted for exhibit at the Fair.
On-Line entries will be available through Saturday, August 26, 2017.
You may enter On-Line or by filling out the Entry form below,

Click Here for On-Line Entry
(Opens in a new Window)
Available through Saturday, August 25, 2017
If you are not familiar with our Exhibitor Rules,
see our Rules at the bottom of the page.
Then, download the Entry Form,
select the Categories you are interested in
and return the form by Friday, August 25, 2017.
We'll have the printed copy available by August 1, 2017
at the following locations:
The Winnemucca Convention Center
The Humboldt County Chamber of Commerce
The Humboldt County Library
The Humboldt County Fairgrounds Office
The Extention Office
The Battle Mountain Chamber of Commerce
The Lovelock Chamber of Commerce
The Orovada Post Office
The Paradise Valley Post Office
The McDermitt Post Office

Most of the following files are provided in PDF format.
If you do not have Adobe Acrobat Reader, it is available free from Adobe.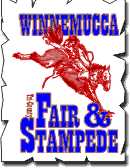 Back to the Fair Guide Page