Labor Day Parade
Saturday, September 1, 2017
Parade plaques will be awarded to Most Original and One Moccasin winners. Plaques and prize money will be awarded to First Place in all other categories and Rosettes will be awarded to second and third place winners in all categories. WINNERS WILL BE ANNOUNCED AT THE RODEO ON SATURDAY EVENING AND AWARDS WILL BE AVAILABLE FOR PICK UP AT THE EVENTS COMPLEX OFFICE.
The categories are:
Most Original (theme oriented) *
One Moccasin (judges discretion)*
Hitch-drawn Vehicle
Commercial
Non-Commercial
Novelty Group
Best Ethnic
Political
12 years & under (open)
Best Musical Group
Mounted Group
Walking Group (open)
Mounted Individual
Autos of the Past
*(First Place awards only)
HOW CAN I ENTER?
Download the entry form, fill it out and return it to:
Labor Day Parade
50 W Winnemucca Blvd.
Winnemucca, NV 89445
Fax: 775-623-5087
WHEN IS THE PRE-ENTRY DEADLINE?
All parade entry forms are due Monday, August 27, 2018 at 5 pm. You can submit your parade entry forms to the Convention Center or the Extension Office. If you have any questions, please call the Convention Center at 775-623-5071 ext. 102, or email Darrel@winnemucca.com
WHEN AND WHERE DO I CHECK IN?
Check in at the East entrance at the Model T Resort Casino, next to O'Reillys starting at 10:00 AM. Be on time, the parade starts at 11:00 AM.
Download the Parade Entry Form below:
The Parade Theme is Bobby Socks and Bucking Broncs
Some Browsers maintain history of Pages for an annoying amount of time,
so your browser may still be downloading the old document.
Clear your browser history and refresh the page for the Correct Theme.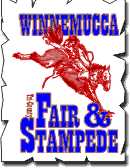 Back to the Fair Home Page